Mohokare Local Municipal found in the Xhariep District Municipality has three towns and is situated in the south-eastern Free State. The towns in the Mohokare Municipal area are:
Zastron
Smithfield
Rouxville
Zastron is the main administration town for the Mohokare Local Municipality. The town, located at the foot of the Aasvoelberg with the famous Eye of Zastron, a nine meter wide hole through a sandstone rock. Very nice examples of bushman art can be found on the various farms in the area. Zastron is very close to Lesotho and a great place to start exploring.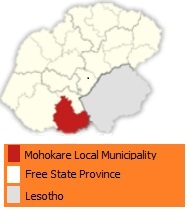 Smithfield is a small town in the Free State Province of South Africa. It was founded in 1848 after Sir Harry Smith, the Cape Colony governor, needed a town north of the Orange River. General Christiaan de Wet was born on the farm Leeukop near the town. Peaceful, splendidly vast, unpolluted countryside abounds around historic Smithfield, tucked neatly into a horseshoe of hills. Established in 1848 and named after Sir Harry Smith, then Governor of the Cape, Smithfield is the third oldest town in the Free State Province.
Rouxville is in the middle of a number of other interesting places such as Smithfield, Aliwal, Xhariep and Zastron and with the impressive Maluti mountains in the back drop it is perfect for enjoying the views. Situated on the N6. Rouxville was founded by Petrus Wepenaar, in 1863 on the farm Zuurbult. It was named after Rev. Pieter Roux, who traveled throughout the Eastern Free State for many years holding church services for local communities. During the Anglo-Boer war all of it's citizens were called up and the town was completely deserted for two years.